Training in prospecting and making appointments by phone, what you need to know:
The acquisition of customers by telephone is often considered a stressful time, especially at the beginning. In order to convince a customer, the first moments of a telephone conversation are decisive, especially if it is your first call with this new potential client.
The first step is already to convince them to continue the call. To do this, you must be able to generate interest before closing a sale. Let's see together how you can convince your customer and set up an appointment or a second meeting.
Be ready before you call your contact person to convince your customer.
This makes us all the more comfortable and confident when we are prepared. Preparation is based on 3 fundamental points: a good mood, a good spirit and a good knowledge of the subject.
Before starting telephone prospecting, you must put yourself in good conditions. This means that you are in a calm environment. When you are in the office, find a small isolated room and close the door. You will have a calm mind that knows you will not be interrupted or distracted by noise. On the other hand, you will look more professional: It can be annoying to have noise around you. Sit properly, with your back straight in front of your computer, laptops, and calendar.
---
A renewed confidence
In addition, it is important that you have confidence in yourself and in the product and service you are trying to sell. You must therefore be convinced that the product/service you are selling will really interest your interlocutor, otherwise your speech will not be powerful and convincing.
Adopt a positive attitude. Remember the last telephone sales that went well, where you found the right words to convince your customer, where he was satisfied and thanked you. Take a "leading position" to gain self-confidence: Raise your arms in the air as if you had just won the Tour de France. Then focus on your abdominal breathing by breathing deeply for 1 minute and exhaling. This will reassure you and allow you to focus on your sales goal.
---
The question of organization
After all, organization is an important key to your telephone research. This means that you must have prepared your telephone interview in advance: Know your interviewer, the company, their expectations, what your product/service could bring them, what you are going to talk about in this interview to convince your client. You must therefore already know your product/service well, otherwise you might show signs of hesitation, or worse, not be able to answer your customer's questions. This way, you always have your various sales supports at hand.
Be careful, because knowing your speech does not mean repeating it by heart in a monotonous tone. Your interlocutor must feel your conviction that you really believe that the product/service you offer him/her will be beneficial, and he/she therefore has the impression that your speech is unique and caring.  Express yourself clearly (in voice, but also in words) and confidently (in code).
---
Pay attention to your grip
The first few minutes of your telephone canvassing are crucial for the rest of your conversation and ultimately for your sale. It is therefore necessary to perfect your keyword, which means preparing your client well in advance to understand his potential interest in what you are proposing.
---
Your buzzword will be all the more successful if you :
Give the reasons for your call (why are you calling this company?);
Do you have any recommendations and that they come from a person known to your client (who, in your close circle or among your clients, has recommended such a company to you?)
Find a sufficiently interesting common point with your interlocutor.
If you keep these points, you will go in better conditions!
---
Listening to your customers
Convincing a customer means knowing what he expects and reacting with the strongest arguments. To do this, you must listen. It can therefore be useful to take notes during the conversation. You will probably have to deal with your interviewer's objections. Accept them as proof of interest: Your client wants to know if what you are offering is of interest to him or her. A person who is interested in everything you have to offer.
Now you know more about : How to convince a customer over the phone?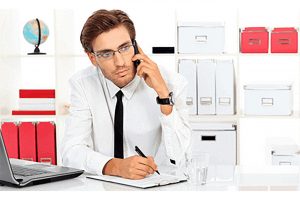 ---
More information
If you would like to know more about the best customer service providers, please do not hesitate to contact us. You will need to fill out the form provided on our website.
Jean-Pierre Gagnon
CEO – Prospecto
Need help with your sales?

Make an appointment to get a quick quote
– Agenda –