what does a call center agent do?
A call center agent makes, takes and manages calls in a call center. This involves taking calls and advising you or sometimes taking customer feedback into account. To be a good customer service call center agent, you need excellent communication skills, a good level of language and a pleasant way to make calls.
---
What are the skills required for call center agents?
Call center agents are essentially customer service agents and require certain skills:
Social skills
ability to communicate
customer service orientation
Sense of organization
problem solving skills
Good verbal expressiveness and positive charisma on the phone
negotiation skills
Interest in customer service
High motivation and sense of responsibility
teamwork
Most companies will provide their teleoperators with business and product training, but there is no special training or education program designed specifically for telephone operators.
---
How do I become a call center agent?
There are no specific courses required, but anything that includes aspects of customer service can provide valuable knowledge and experience. It is also possible to start working through training. The trick is to be professional when answering calls and to use short, polite sentences.
Thank you for calling Mr./Mrs. X.
How can I transfer your call directly to you?
Just a moment, please.
You will be redirected to the appropriate service, please stay on the line.
---
How do you measure the skills of a good customer advisor?
When it comes to answering calls, the focus is on advising and selling products. As a customer advisor, your success is not measured by the number of calls or sales, but by customer satisfaction.
---
Opportunities for advancement and employment.
After one to two years of experience, a call center agent may be promoted to the position of quality manager who supports the supervisor by monitoring telephone conversations with customer service or even a team coach or business trainer. Some employees move to other clerical jobs such as plumbers, shop or administrative assistants.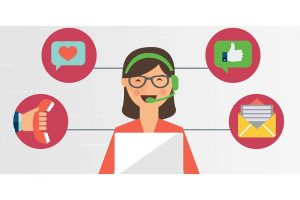 ---
More information
If you would like to know more about the best customer service providers, please do not hesitate to contact us. You will need to fill out the form provided on our website.
Need help with your sales?

Make an appointment to get a quick quote
– Agenda –