How customer service works is a strategic issue for all companies that want to build customer loyalty. Well thought-out customer service enables us to provide a customer experience throughout the entire purchasing cycle. With digitization, a customer service department will have to make many changes next year to meet customer expectations. The impact of Generation Y and Generation Z on consumer change is very strong, especially in terms of new technologies and digital technologies.
Deciding to improve your customer service next year means ensuring the sustainability of your business. Today, to deliver an ideal customer experience, you need to think in multiple languages. As the share of digital technology in customer relationships increases, customer service must take over. Although digital tools are becoming more and more present, they obviously do not meet all customer expectations. Physical or telephone business exchanges are reinforced, because for nearly 89% of the population, customer service is a place of exchange between people. In addition, it is difficult for a chatbot, for example, to respond to all customer requests.
---
Let's take a look at how customer service will work in the future?
Next year, customer service will use new technologies.
Next year is the year of using new technologies such as chatbots. Chatbots have been spreading for almost 3-4 years and have become an integral part of customer relationship strategies. New technologies have the advantage of making customer relations simpler and more fluid. In fact, it will be possible to process simple requests more easily, leaving employees with more complex tasks. If we take the example of chatbots, they will be able to solve problems or answer fundamental questions.  If they don't recognize your problem, they will direct you to a support technician or consultant.
Chatbots are becoming increasingly popular in terms of customer service and customer satisfaction. More and more marketing and sales professionals agree that this tool is becoming more and more important. Essentially, yes, but it won't replace people, because it's a tool that supports them. The chatbot is a support or another tool to facilitate the customer relationship and personalize it to the maximum.
Artificial intelligence, data understanding and analysis will continue to be one of the challenges in customer service next year. The goal is to further personalize the customer experience. Data analysis will also allow more questions to be answered and solutions to be found quickly.
But all new technologies must be part of a multi-channel strategy. The combination of digital tools, new technologies and human relations is therefore essential for customer service next year.
---
Customer service focused on digital technology
Customer service in the coming year must also be digital.  Generation Y and Generation Z are the main consumers, and responding to these changes in consumption will be mandatory.
Customer service in the next year must use all digital tools to meet customer expectations. The impact of e-reputation can make you a king or a forbidden. Anyone can express his opinion, evaluate and criticize a company. Being digital means making sure your customers are heard on all platforms. It means that you are also responsible for responding to your customers on social networks.
---
Customer service in the future will therefore be provided in different formats, such as :
Social networks to exchange and guide customers, and especially to meet their expectations.
The forums, even if they are less and less used, must always be respected. Whether they are internal or external to your brand, they testify to your e-reputation.
Rate the websites or Google comments that are increasingly used.
By mail, because it allows a quick exchange of information.
Web-to-Call, which is an essential technology for contacting a brand.
Strategic action based on customer service must be taken seriously. This allows you to react quickly to a specific request and to be close to your customers.
---
The human touchstone of customer service in the future?
The fact that digital is increasingly present means that generations Y and Z want more people. Both generations want interaction, especially when they are:
In the reflection phase of the purchase
For the purchase itself
Or if they have a problem they are struggling to solve.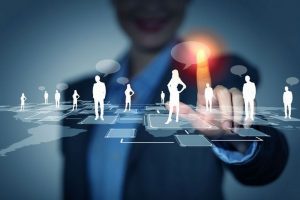 Now you know a little bit more about it: The customer service of the future: How should it work?
---
More information
If you would like to know more about the best customer service providers, please do not hesitate to contact us. You will need to fill out the form provided on our website.
1-866-885-5750 | info@prospecto.ca
Need help with your sales?