TOGETHER WE ARE STRONGER!
Here are some tips to guide you to convert a lead into a customer after having concluded the sale of the said LEAD received.
We have the expertise, the technology and the resources to help you generate maximum opportunities at minimum cost.
WHAT TO DO WITH A LEAD?
One of Prospecto's mandates is to generate leads for you. But what is a lead? Good question, here is our recipe…
THE STEP 1 IS COMPLETE, IT'S YOUR JOB!
The mandate of Prospecto is to generate leads for you.
But what is a lead?
Good question! A lead is an opportunity: generally a prospect who shows a certain interest in your product and/or service offering.
It is therefore necessary to understand that a lead is not an insured customer. It is a potential customer who must be converted into a customer. Each lead that Prospecto delivers is important because, first of all, you pay for it, but also because there is work behind this opportunity; generating a lead is often the most difficult step in the sales cycle.
To maximize your sales, part of the work is done but another part remains to be done: converting the prospect who shows interest into a customer.
This is where you come in. You know your product and service offering better than anyone. You know your competitive advantages and your pricing. To do this, you need to know your sales cycle (the steps required to convert a prospect into a customer). What is the next step with the lead that will be delivered to you? Who will take care of it? Two trivial but essential questions. When Prospecto delivers a lead to you, the interest of the prospect in question can vary: some may show a strong interest, others less so and be rather curious. Others may simply not be able to say no. So you have to be ready to seize all opportunities and direct them into your sales funnel. This is where you and your team come in. Be organized.
When the mandate begins, many leads will be delivered. It is important to have a calendar and/or a good customer relationship management software called CRM. You must be proactive. Most opportunities come in the form of appointments. These can be in person or by phone. It is strongly recommended to contact the prospect 24 to 48 hours before the appointment. Introduce yourself, confirm the appointment, prepare the prospect (does he need to provide certain information, does he need to have certain documents with him, etc.) and briefly explain how the contact will take place. Your action will certainly have a confidence-building effect and will reduce cancellations.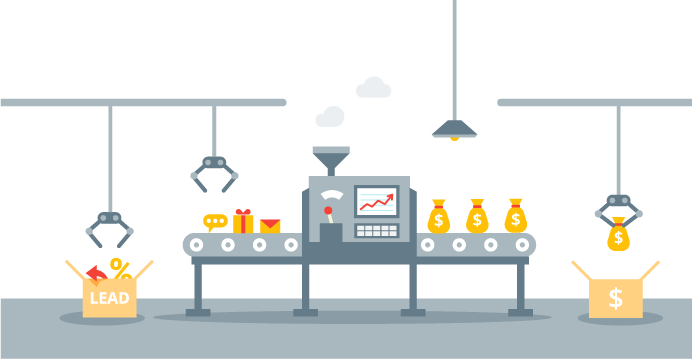 THE PEOPLE BUY FROM THE PEOPLE THEY LOVE
Play the seduction game. First of all, defuse the tension if necessary: humor is often a good tool. A simple comment in the form of a question can also help, for example: you have a very nice reception, have you renovated it recently? Show your prospect the importance you attach to him as an individual. It is known and recognized that it is easier to convert a prospect or a lead into a customer when he/she is confident, but above all when the chemistry is good with the person he/she is talking to and when there is chemistry between the two people. Sell yourself, talk about your competitive advantages, your service, your known and satisfied customers. Create a Wow effect. Qualify your prospect and his or her interest level. Use reassuring language and a pleasant tone. Play subtle detective with short, innocent and banal questions. Pay attention to verbal and non-verbal responses, take notes and use your prospect's answers. If the prospect is reluctant to reveal himself, use the last words of his answers to encourage him to continue: this is a trick that works well.
Here's an example:
Prospect: We will have needs in the near future.
Salesperson: In the near future?
Prospect: Yes, within 3-6 months.
The general qualification leads are:
What does your customer currently have as a product/service?
What are the strengths of your competition? Your competition?
What are their needs and expectations?
Does your prospect make the decisions?
What is your contribution or competitive advantage?
Your sales cycle and a proposal:
What is the next step in your appointment?
Will a service proposal or product quote immediately follow your appointment?
Will a second meeting be necessary?
Important: To follow up on that first appointment, you need to bring your prospect into your sales cycle to convert them into a customer.
Let your prospect know that you will stay in touch with them. Follow up periodically.
To see our other services, click here.
Need help for your sales?

Make an appointment for a quick quote
– Agenda –