Salesforce the pioneer of commercial CRM,If you are looking for an efficient CRM solution, Salesforce is the right candidate, and it is very popular at the moment, which will help you improve your business by strengthening your relationship with your customers or prospects. But let's take a closer look at the strengths and weaknesses of this software.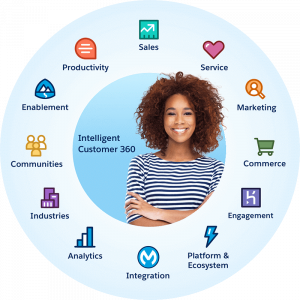 ---
The advantages of this CRM
In fact, it offers a wide range of strengths.
. The Dashboards of this software are fully customized, so multiple users belonging to various industries can make use of this CRM in a way that will make the task of the customer support team easier and more efficient.
.  It is quite possible to insert software into Salesforce, such as Mailchimp, Zendesk, and ActiveCampaign. This way, your entire team can have access to the data they need to make sense of the customer situation and help them come up with an appropriate solution.
. Salesforce offers data automation, which will help you better understand sales and keep your customers happy. This customer-centric technique is a guarantee to be able to create a strong customer base. Then, your team will essentially focus on the primary tasks and this will have a great impact on their productivity and your company's brand.For sales-based companies,
. Salesforce is an exceptionally invaluable solution.
---
Weakness of this CRM software
Despite its undeniable advantages, the leader in online CRM has a few weak points. It must also be said that the competition has something to do with it.
This CRM software has metamorphosed over the years from a customer management software to a cloud platform software.
It is an expensive tool, especially since you must necessarily insert additional paid modules to have access to some more advanced features.
Configuration and installation are complicated and time consuming. In addition to the financial side, the functional depth of this software does not often facilitate its opening, which is quite complex. This can inconvenience your teams who will find that the learning curve seems to drag on.
The overloaded interface will make navigation and obvious tasks unnecessarily complicated, which will reduce the daily application of the solution. In terms of user experience or UX, this customer management software suffers in comparison to smoother, simpler and more intuitive CRMs.
---
Link to supplier for more information
For more information, you can visit the supplier's website:
https://www.salesforce.com/fr/
Approximate monthly price
There are several levels: Essentials, Professional, Enterprise and Unlimited
. Salesforce Essentials for up to ten users: it costs $25 per user per month, but the subscription is annual. It offers very basic features such as account and contact management, email tracking, lead scoring, custom reports and dashboards, and mobile access.
. Salesforce Professional: The subscription is annual at €75 per month per user. No user limit. This kind of plan helps you manage campaigns, custom Dashboards, products, estimates and orders, and role-based access for users. This plan is perfect for small businesses.
. The Enterprise Plan: Annual subscription at €150 per user per month. In addition to the features listed above, this plan allows for extensive workflow automation, custom application development and access to the Internet Services API…
. The Unlimited plan: You must also subscribe to an annual subscription at a rate of €300 per user per month This solution allows unlimited customizations, various sandboxes, custom applications, free uninterrupted support and unlimited training
Link to the YouTube training channel of this supplier
Link to a product presentation video
---
More information
If you would like to know more about the best customer service providers, please do not hesitate to contact us. You will need to fill out the form provided on our website.
1-866-885-5750 | info@prospecto.ca
Need help with your sales?