Monday CRM…a fairly powerful CRM solution, monday.com offers a powerful CRM solution to meet the needs of sales teams and synchronize their activities. With an intuitive and easy to use interface, you can track all your potential and existing customers, your sales pipelines and not waste your time doing sometimes fruitless research. Everything will be displayed in front of you.
The strengths of this CRM

. One of the strong points of this customer management software is its fluid, aesthetic, modern and attractive interface. You will have in front of you a set of tables that will help you to have a visibility on the progress of projects, on possible delays and on the causes of blocking points. Generally automated, this CRM tool will help you avoid wasting time on small, time-consuming activities. As a result, your team will be better focused on the essentials of their work and on the tasks that deserve attention.

. It's easy to set up and adopt. You don't have to call your developers to get your work started. All you have to do is import all your data and add your current applications and programs.

. This CRM tool helps improve the efficiency and productivity of your teams. This way, you can automate manual tasks and have access to all your projects wherever you are through the mobile application.
---
       2. Management
This software offers you a single space to manage your entire sales pipeline: entering information on potential customers, adding customers, managing contacts.
Real-time tracking and reporting. This will help you make decisions based on information presented in real time and smooth reporting tables, allowing you to calculate sales, get an idea of sales forecasts, etc.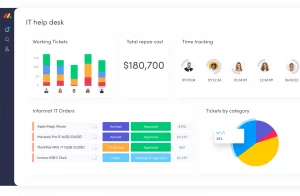 ---
Weakness of this CRM software
. You are offered a 14-day trial which is not enough to get used to the application.
. It does not offer the possibility to export Gantt schedules.
. It is not possible to convert emails into tasks from a project email address.
Link to the supplier for more information
https://monday.com/lang/fr/use-cases/sales-crm
      Approximate monthly price
CRM tools can be very expensive. However, monday.com offers reasonable packages that will allow you to access key features to properly manage customer relationships and all related projects.
8 euros per month per user: it is rather intended for small teams of three people. With this Basic plan, small companies can plan their contracts, structure their sales and marketing pipelines.
10 euros per month per user: this Standard plan contains everything that the Basic plan offers, plus visualization tools and automations.
16 euros per month per user: the Pro plan is even more powerful, as you get a complete CRM platform for managing your end-to-end sales cycles with more powerful tools and more automation. Finally, the Enterprise plan offers a fully customizable solution of workflows and capabilities at the company level.
Link to the YouTube training channel of this supplier
     2. Link to a product presentation video
https://www.youtube.com/watch?v=8eic-TIvxjw
---
More information
If you would like to know more about the best customer service providers, please do not hesitate to contact us. You will need to fill out the form provided on our website.
1-866-885-5750 | info@prospecto.ca
Need help with your sales?